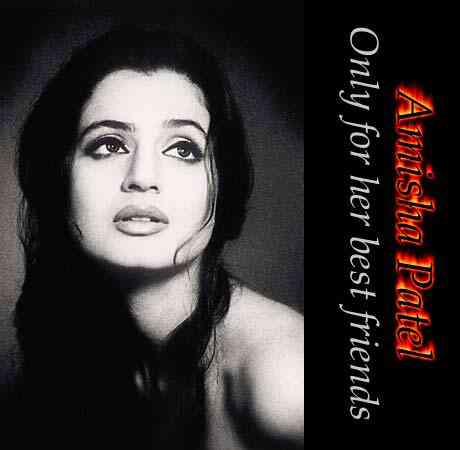 Amisha Patel is a Bollywood actress who has been in the world of acting for a total of 12 years now. She is the granddaughter of Rajni Patel who was a famous barrister and is a sister to actor Ashmit Patel. She studied for a degree in economics from Massachusetts after which she made her debut in acting in Rakesh Roshan's 'Kaho naa pyaar Hai' alongside Hrithik Roshan, which thrust her very well into the world of acting. She received acclaim for her performance in this movie, which is one of the greatest in Hindi cinema. She received a Filmfare Special Performance Award in 2001 for her role in the film Gadar-ek prem katha'; a film which was directed by Anil Sharma and in which she played alongside Sunny Deol. It was the top grossing film in India for that year and one of the biggest hits in India to this date as well. It was set during the indo-Pakistani war of 1947 where she played the character of Sakeena, a Muslim girl who falls for Sunny Deol's Character in the film. She was nominated for best actress for this role as well. The fact that she did not have a lot of films on her CV served her very well as she got amazing remakes for handling a role with a lot of skill and elegance, even as she wasn't very experienced in film.
She has not been immune to controversy in her acting and personal life, as during the time when she was experiencing a downside in her acting career she was the talk of the town when she had a rift with her parents. Her love affair with Vikram Bhatt, a film director was also a subject of controversy and it could not come at a worse time-when she was experiencing flops with films like Yehi Pyaar Hai and Parwana and Yeh Hau Jalwa. In regard to the family misunderstandings, Patel was experiencing a financial crisis at a time when her career was facing a downturn and she alleged that her parents had used her money for their personal reasons without asking for her permission, at which point she sued her father for mismanaging her accounts and demanded the money back. At the time, she was dating Vikram Bhatt, and the run-ins between her and her parents caused a rift between the Patel and Bhatt families. Amisha and the film director met on the set of a movie; 'Aap Mujhe Achche Lagne Lage' and dated for five years after which they broke up in 2007.
As part of her bouncing back career, she landed the role in Mangal Pandey; a film directed by Ketan Mehta, where she played the role of a widow. Since then Amisha Patel has been adding feathers to her hats with successful films that followed, like Honeymoon travels and Bhool Bhulaiya. She is an avid theatre performer has well and has been part of musical concerts all over the world, which form a big part of her career. She was part of a world tour concert The Roshans: Hrithik Live in Concert in 2001 just at the onset of her career. Amisha Patel has taken part in several other concerts after her debut concert; Adnan Sami's Kuch Dil Se, Akshay Kumar's Chandni Chowk among others.
Amisha Patel is an active member of PETA; an organization that works for the welfare of animals. She joined PETA in 2004 as part of a campaign for animal rights, especially those animals that have been kept in captivity. She has also participated in several other worthy causes in which she has helped in raising money for the victims of the 2004 Indian Ocean earthquake. She has been in part of campaigns by non-governmental organizations; in 2005 she took part in a charity event to raise money for the National Centre for the Promotion of Employment of Disabled Persons. Among the many other worthy causes that she has contributed to or become part of includes PlanetRead, which promotes literacy especially in people living in villages. Most recently, she joined the United Nations office on drugs and crime, an organization whose mandate is to curb human trafficking in India.
After splitting with Kanav Puri; a businessman she dated after her five-year affair with Vikram Bhatt came to an end, she is concentrating all her efforts on her career. She is set to make it all over again and will be seen in several Bollywood releases that are yet to make it to the market this year.